Hawk-Eye brings the game to life
Want to know if Shoaib Ahktar is spraying it against Bangladesh? Is Graeme Swann on the mark against South Africa? Is Sachin Tendulkar going leg-side against Australia? Was that LBW even out? Well now you can put yourself in the umpires' shoes with ESPNcricinfo's enhanced live Hawk-Eye application. Just click on the 'Hawk-Eye' tab from any international live scorecard and you'll be out in the middle in seconds.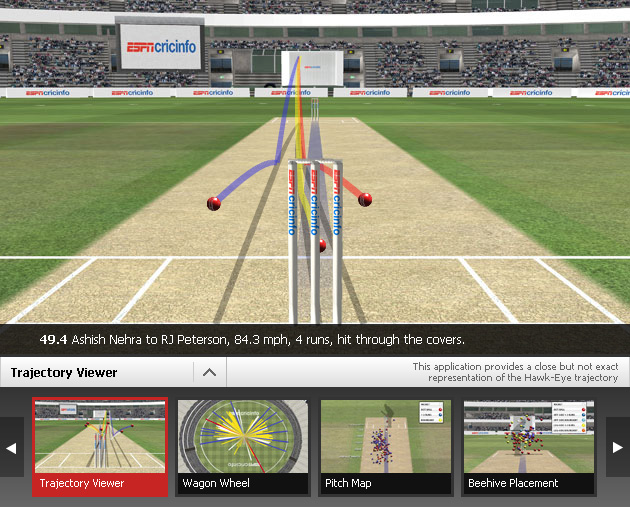 Internet Explorer 9 is the fastest way to enjoy faster sports for Windows 7 and Vista users.
All around fast - unlock the full power of your PC.
Your sites shine - a clean UI puts the focus on the web.
Seamless with Windows 7 - enjoy Pinning, Jump Lists and Aero-snap.
FULL-ON Fast
Access ESPNcricinfo in seconds without even needing to boot up your browser with Internet Explorer 9's 'Pinning' and 'Jump List' features. Pin the site's favicon to your Taskbar and you can go directly to the site from your desktop. You can also jump directly to your favourite areas of the site with the pop-up menu that appears when you 'right-click' on the icon on your Taskbar.