Record-breaking Lyon
Nathan Lyon was on a roll in the two-Test series in Bangladesh. His Chittagong match-haul of 13 for 154 was his second ten-for, and also his best figures in Tests. In fact, he became only the third off-spinner from Australia and the first in over 110 years to take two ten-wicket hauls. The 22 wickets he has taken in this series against Bangladesh is the joint second-highest in any two-match series, next only to Rangana Herath's 23-wicket haul against Pakistan in 2014.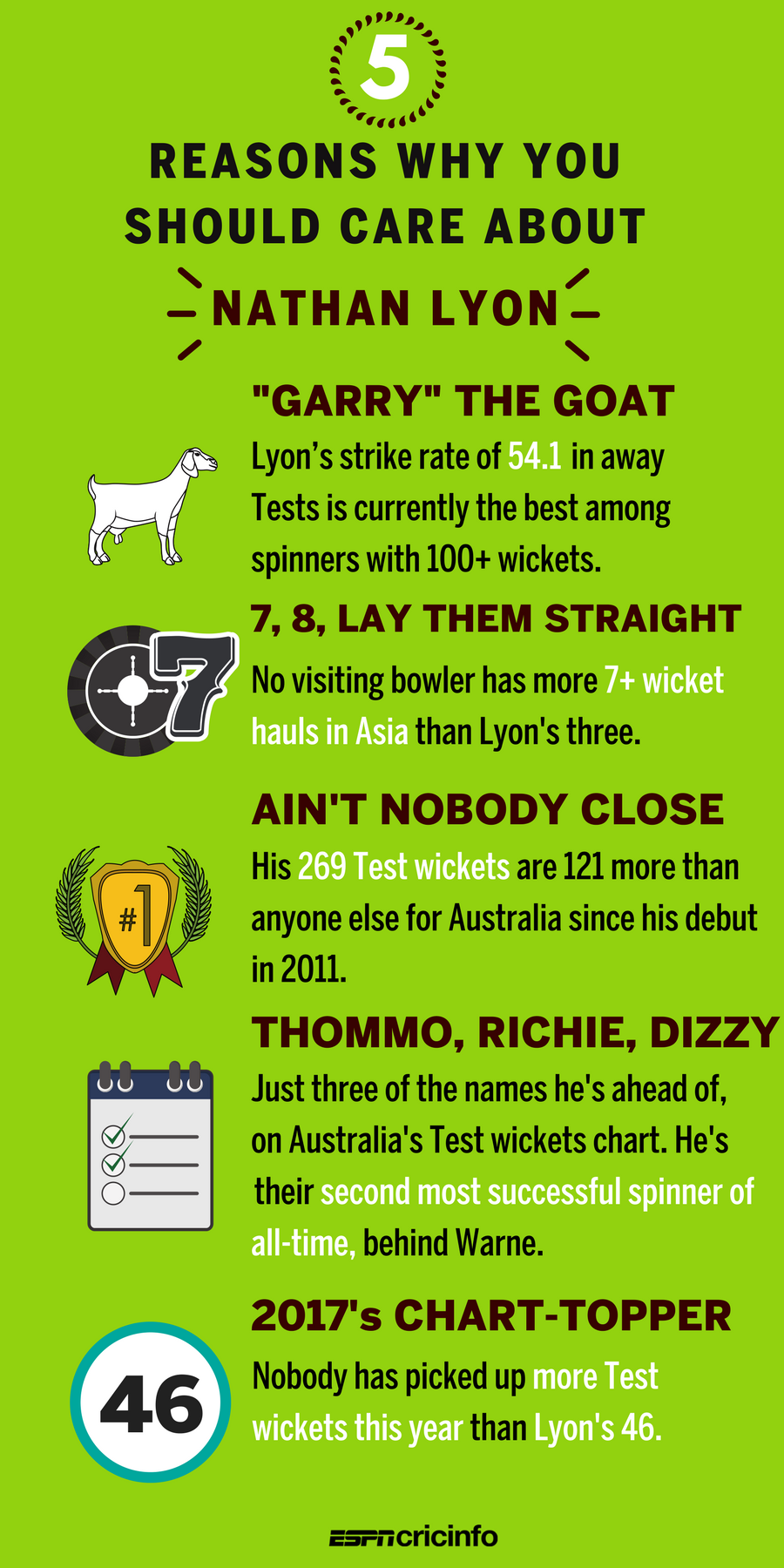 Solving the Asia puzzle
Lyon's first three Asian tours - to Sri Lanka, India and UAE between 2011 and 2014 - were nightmarish. He averaged 49.11, and took a wicket once every 14 overs. The series against Pakistan in the UAE was especially poor, when he managed only three wickets from 660 deliveries.
However, he has learnt from those experiences and come back strongly on his next three tours. In nine Tests in Asia since 2015, Lyon has picked up 57 wickets, averaging one every eight overs. Among all the bowlers who have bowled in Asia in this period, Lyon has the second-best strike-rate, ahead of subcontinent-specialists Yasir Shah, Ravindra Jadeja and Shakib Al Hasan. He has also taken five five-wicket hauls and now has the second most five-fors for Australia in Asia, behind Shane Warne.
Left is right
Like most offspinners, Lyon is at his best against left-hand batsmen, and this Bangladesh line-up gave him plenty of opportunity to be at his best. Against a top-order that included five left-handers, Lyon was lethal: of the 22 wickets he took in the series, 15 were of left-handers, whom he dismissed at an average of 10.46. The right-handers, however, made him work much harder; he averaged 22.57 against them. He took a wicket every 29 balls against the left-handers compared to one every 53 balls against right-hand batsmen. Imrul Kayes was dismissed three times in 39 balls, scoring just four runs, while Shakib Al Hasan scored 37 from 89, and was out thrice as well.
Of those 15 dismissals of left-handers, 13 were from around the stumps, at an average of 11.30. When bowling to right-handers, he took seven wickets from over the stumps, at an average of 17.42, demonstrating an ability to bowl effectively from both sides of the stumps.
Over his entire career, he averages 34.75 against right-handers and 25.50 against the left, but in Asia the difference is even starker. On his first three tours, Lyon averaged over 35 runs and took a wicket every 10 overs against the left-handers. Having bowled a lot in these conditions, Lyon's record has made a stark improvement.
The second-innings challenge
On pitches that usually tend to wear pretty rapidly, Lyon had been strangely ineffective in the second innings in Asia before this series. His second-innings average in Asia, prior to this series, was 49.47, compared to 32.43 in the first.
However with his two consecutive five-fors in the second innings against Bangladesh, Lyon has improved on those numbers too. In this series, Lyon took 12 second-innings wickets at 11.83, compared to 10 in the first innings at 17.30.
Lyon is only 29 and his experience in Asian conditions would only help him further these extraordinary numbers. In Lyon, perhaps, Australia have found a worthy successor to Warne.