New Zealand v Australia, 1st Test, Wellington, 3rd day
February 14, 2016
Basin Reserve record gives New Zealand glimmer
New Zealand have had to adopt a philosophical approach in this Test as Adam Voges piled up 239 after wrongly being given not out on 7, and that approach will have to extend into day four as they fight to save the match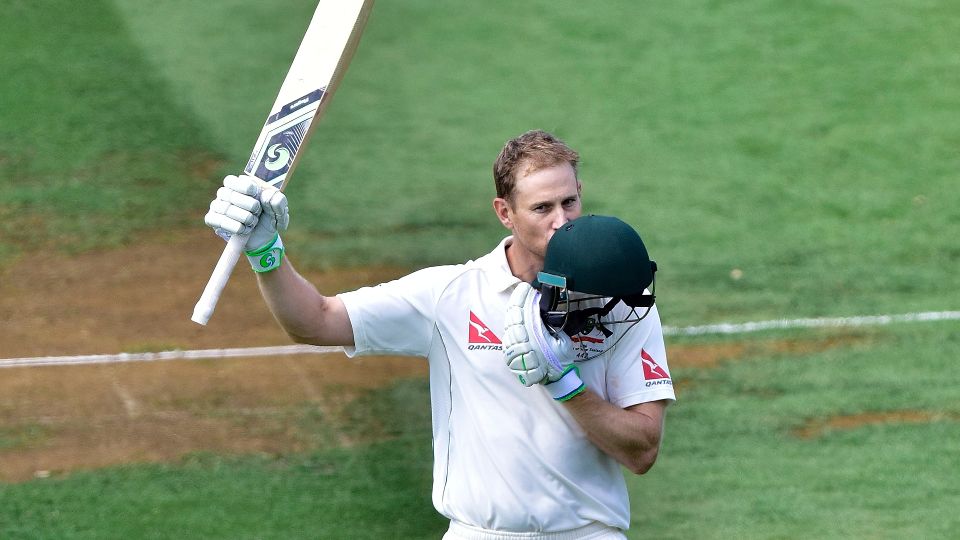 Play 01:17

'Voges made the most of luck' - McMillan
There are some Tests that meander in such a way that spectators are tempted to leave early and beat the traffic. It has not paid off to do so this time. Twice in three days the final over of the afternoon has provided a moment of a drama; on day one it was Adam Voges being bowled off a no-ball that was wrongly called by umpire Richard Illingworth, and on day three it was Brendon McCullum being rightly judged lbw by umpire Richard Kettleborough.
You could sense the deflation from the New Zealand fans on both occasions. In his 100th and penultimate Test, McCullum has managed a seven-ball duck and a 31-ball 10, and his team is on the precipice with two days to play. They must avoid defeat at the Basin Reserve in order to have any chance of winning the Trans-Tasman Trophy; McCullum hoped for a fairy tale ending, but it may turn out to be of the Brothers Grimm variety.
Mitchell Marsh was the bowler who trapped McCullum on the verge of stumps in front of his own, and it left New Zealand at 178 for 4, still needing a further 201 runs to even make the Australians bat again. New Zealand's recent history at this venue is encouraging - their past two sixth-wicket stands in the second innings of Wellington Tests have been 365* and 352 - and another miracle is required to get out of this match unscathed.
"It's a blow whenever you lose any wicket in the last over of the day," the batting coach Craig McMillan said. "You prefer to have that extra wicket, particularly when it's Brendon McCullum, up your sleeve. But it is what it is. We've got six wickets left to fight and make it as difficult as we can over the next couple of days."
It is worth noting, though, that in neither of the past two Basin Reserve Tests have New Zealand started the second innings with such an enormous deficit as they did here, trailing by 379 runs after Adam Voges (239) and Usman Khawaja (140) both went big. New Zealand's second innings started well, with an 81-run opening stand, but both Martin Guptill and Tom Latham fell trying to attack the spin of Nathan Lyon.
"There's a couple of guys who would probably be a little bit disappointed with their dismissal, but they batted well, they batted for a long period," McMillan said. "We're looking for guys to show intent, to be aggressive, sometimes that goes wrong. That happened a couple of times today. By and large the guys have put together good partnerships.
"Sometimes those dismissals look a little bit worse than others. But for me, as long as the rest of the guys show that positive intent then I think we're going to be better off for it. It is what it is. That happens in cricket. You're always going to have a couple of dismissals throughout any innings you play that you look back on. That's just cricket."
A philosophical approach has been required from the New Zealanders for much of this match, after Voges shouldered arms to Doug Bracewell and had his off stump knocked back in the final over of day one. Illingworth's no-ball call meant that Voges was reprieved on 7; he went on to make 239. It was notable that on day three Illingworth again called a no-ball that should clearly have been a legal delivery, this time off Jackson Bird's bowling.
"We're not thinking about it, to be honest, because it's a couple of days ago. We've got to focus our energy on what we can do over the next two days, doing what we can control and getting out of this Test match," McMillan said of the Voges reprieve. "You have to say hats off to Voges, he got a little bit of luck and he made the most of it. You have to applaud that.
"As soon as he has got the reprieve, the focus was right: how can we get him out, what are we going to do? Crying over spilt milk is not going to help you when you're out in the middle and he's scoring runs. The guys stuck at it pretty well. He batted beautifully and he made the most of that reprieve, so fair play to him."
© ESPN Sports Media Ltd.