News
Kohli on RCB's loss to KKR: 'That's what you call a freebie'
"We take pride in the way we play and tonight we weren't up to standard and something we are not shy to admit"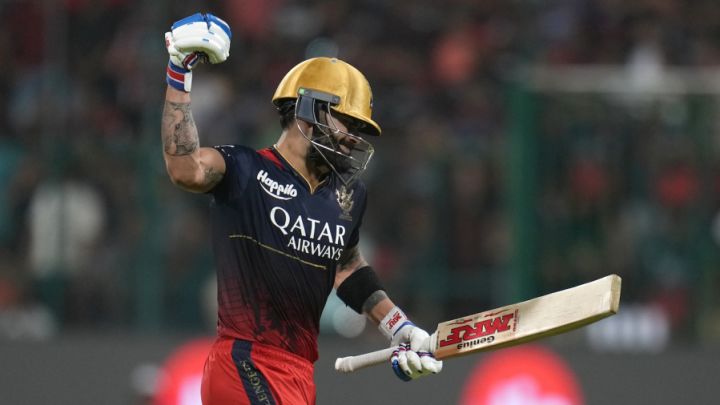 Royal Challengers Bangalore gave Kolkata Knight Riders "a freebie" on Wednesday night, and "deserved to lose" after all their lapses in the field, Virat Kohli, standing in as captain in place of Faf du Plessis, said after the 21-run defeat at home in Bengaluru.
"To be honest, we handed over the game to them," Kohli told the host broadcaster after the match. "We deserved to lose because we weren't professional enough in the field. The bowlers hit decent areas, but we didn't hold on to our chances. That's what you call a freebie in T20 cricket and we literally handed them a victory, which for me is not ideal because we take pride in the way we play and tonight we weren't up to standard and something we are not shy to admit.
"[There were] a few instances where we didn't capitalise during crunch moments. In the field, there was a period of four-five overs where we dropped the chances and that costs us about 25-30 runs in the end."
KKR captain Nitish Rana got two lives in the 13th and the 15th overs and he went on to smash 48 off just 21 balls. The first of those chances came when he was on 5, Mohammed Siraj dropping Rana at long-off off Vijaykumar Vyshak. One over later, off Siraj's bowling, Rana flicked to fine leg, where Harshal Patel couldn't hold on. Rana was on 19 off 12 then.
Rana hit two sixes off Harshal in the next over and closed the following over, the 17th, with two fours and a six off Vyshak. RCB ended up conceding 50 off the last four overs that helped KKR get to 200.
RCB then lost three wickets - that of Faf du Plessis, Shahbaz Ahmed and Glenn Maxwell - inside the powerplay in their chase despite scoring 58. Kohli then hit his fifth half-century this season and kept RCB in the game with a 55-run stand with Mahipal Lomror. But the pair fell in quick succession and that derailed the chase.
"With the bat, we set ourselves up really well and then [there were] so many soft dismissals," Kohli said. "Balls which are not wicket-taking balls but we ended up hitting it to fielders about four-five times in the innings. These are some of the soft plays in cricket which you want to avoid as a team. So when you do six-seven of those on a night, obviously you are going to be on the losing side.
"Even after losing wickets as well, one partnership brought us back in the game. We were one more partnership away from getting close to chasing that [target] down. We just need to identify things that did not go right tonight and not give soft plays to the opposition."
This was RCB's second loss to KKR this season. As things stand, they are fifth on the table, just two points off the ten that Chennai Super Kings and Gujarat Titans have, but they now play five games away before returning to the M Chinnaswamy Stadium for their last league match.