Ask Steven
Is Joe Root the first England captain to be run out in successive Test innings?
And have any cricketers taken part in the Winter Olympics?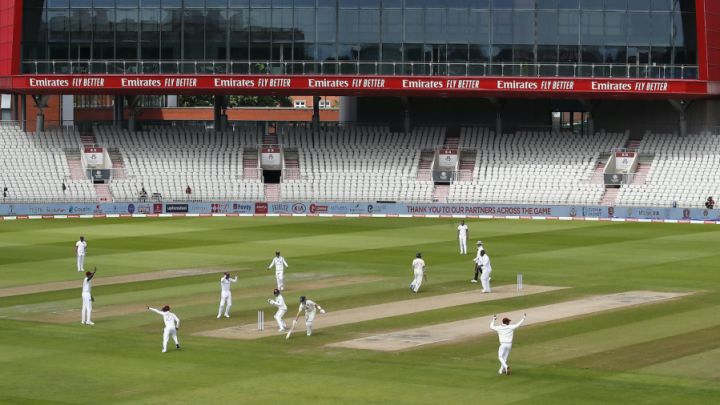 Which South African Test cricketer never played a first-class match in his home country? asked Michael Roberts from England
The owner of this peculiar distinction is seamer George Parker, who won two Test caps in England in 1924. South Africa's bowlers, used to matting pitches at home, struggled on turf in England, and the management cast round for alternatives. Parker, who was born in Cape Town in 1899, had been in England for four years, and was playing for Eccleshill in the Bradford League. He made his first-class debut in a rain-affected match against Oxford University, and took four wickets - and was hustled into the Test side for the opening match of the series at Edgbaston.
Parker did his side proud, taking six wickets, although they cost him 152 runs: his victims included Herbert Sutcliffe, Frank Woolley, Patsy Hendren and Percy Chapman. Parker sent down 37 overs, an effort that took its toll, as Wisden reported: "He bowled himself to a standstill and became so exhausted that he had to leave the field shortly before the drawing of stumps, the South Africans finishing the day with ten men."
Parker's league commitments meant he did not play again before the second Test, at Lord's, where he dismissed both England's openers, Sutcliffe and Jack Hobbs - but not before they had shared an opening stand of 268. And that was it: Parker wasn't called on again during the tour, and never played another first-class game. He eventually moved to Australia, where he died in 1969.
Joe Root was run out for the second innings running at Manchester. Has this happened to an England captain before? asked Albert Ross from England
Joe Root's run-out on the opening day of the third Test against West Indies at Old Trafford made him only the third England captain to fall this way in successive Test innings. The first was Archie MacLaren, who was run out in the final innings of the 1901-02 Ashes, in Melbourne, and fell the same way on the first day of the return series in England, at Edgbaston a couple of months later. Another Lancastrian, Mike Atherton, was run out in successive innings in 1995, against West Indies at Old Trafford and then at Trent Bridge, where he did at least score 113.
Root has now been run out four times as captain, the most for England, ahead of three by MacLaren (Ricky Ponting was run out nine times, easily the most for any Test captain). In all Tests, Root has now been run out six times: only Geoff Boycott and Matt Prior (seven) fell this way more often for England. Overall, Ponting was run out 15 times in Tests, two ahead of Rahul Dravid, while Allan Border and Matthew Hayden fell this way 12 times each.
Have any cricketers also taken part in the Winter Olympics? asked Kartik Venkataraman from India
I'm not aware of any cricketers - internationals, anyway - who have participated in the Winter Olympics. The nearest I can think of is the left-arm seamer Dirk Nannes, who played white-ball internationals for Australia and Netherlands: he was also an accomplished moguls skier, who took part in World Cup events - but he missed out on the Winter Olympics, although he has commentated on them for Australia television. "My dream as a young bloke was to ski for Australia at the Winter Olympics," he told the Sydney Daily Telegraph in 2018. "It's my first love. I didn't find cricket until I was 26."
There may be some others, especially from the early days when winter sports were a favourite of the English gentry. David Gower, who would surely have been a dashing jazz-hatted amateur if he'd been born a few years earlier, was for a while a regular on the fearsome Cresta Run at St Moritz (a skeleton racing track), once braving the ice shortly before embarking on a tough trip to the Caribbean, as he told The Guardian: "A week before a Windies tour was probably very good timing to get used to handling fear, expectation and speed."
Australia's Dirk Nannes narrowly missed out on making the Australian ski team for the 1998 Winter Olympics  Getty Images
Sir Garry Sobers lost a Test to England in 1967-68 after declaring in both innings. Is he the only captain to suffer this fate? asked Gary Dockerty from Hong Kong
That match in Port-of-Spain in 1967-68 effectively allowed England to win the series, as they won the game after Sobers' two declarations, and took the rubber 1-0. The only other captain to declare twice in a Test and lose is South Africa's Graeme Smith, who closed at 451 for 9 and 194 for 6 against Australia in Sydney in 2005-06. Smith was trying to level the series, which Australia won 2-0 as a result of their victory in this match.
There's a case for saying it also happened in Centurion in 1999-2000, when South Africa declared their first innings at 248 for 8, and forfeited their second, which allowed England to pull off a surprise victory in what became an infamous match, after it emerged that Hansie Cronje, the South African captain, had accepted gifts for ensuring a positive result.
Who played the most Tests, all of which were won - and played the most, all of them being lost? asked Steve Rafferty from Ireland
The 1980s West Indian allrounder Eldine Baptiste is the answer to the first part - he played ten Test matches, all of which were won. And the unfortunate holder of the opposite record is Alok Kapali of Bangladesh, who appeared in 17 Tests and lost the lot. Kapali, who's still playing domestic cricket, holds another peculiar Test record: he took only six wickets with his legbreaks, but they included a hat-trick - Bangladesh's first in Tests - against Pakistan in Peshawar in August 2003.
Steven Lynch is the editor of the updated edition of Wisden on the Ashes