News
Issy Wong: 'I think it's a great time to play Australia'
Fast bowler keen for first taste of Ashes competition on the back of impressive WPL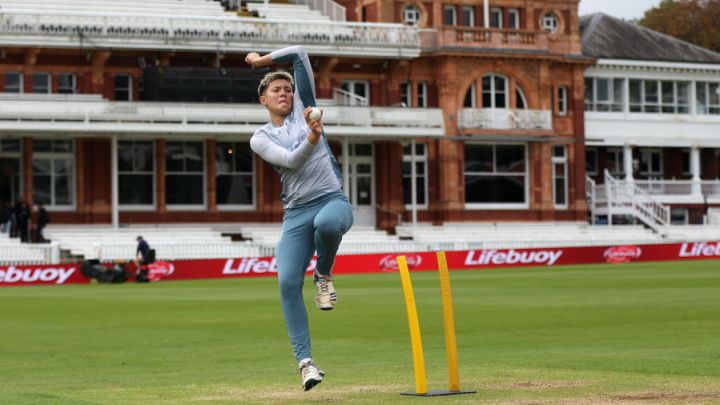 England have fired the first shots, or attempted to, in time-honoured fashion ahead of the men's Ashes, now Issy Wong has joined in the salvo, saying it's not a bad time to take on Australia Women with their multi-format series beginning next month.
Wong made her debut in all three formats during South Africa's tour of England last summer and is hoping to be part of the England side kicking off their Ashes campaign in a five-day Test at Trent Bridge from June 22.
"I think it's a pretty good time to play them, you know, just quietly," Wong said. "They are undoubtably, in my opinion, one of the greatest sports teams in history, of any sport, of any gender. Their record over the last 10 years is absolutely outrageous.
"But it feels like that kind of golden era they've had is… you've had Rach Haynes retiring, [Meg] Lanning stepping away, obviously coming back in ridiculous form, but there's a lot of new faces in that group that are unbelievably talented but haven't necessarily played the biggest part for them over the last couple of years. I think it's a really good time to actually go at them and say, 'right, you are the best team in history, but you've a couple of new faces in here and let's see if you're as good as you were five years ago.' I think it's great time to play.
"I've never played them though," she added, bursting into laughter. "I've watched them on the telly a lot, they look great."
Wong wasn't part of England's T20 World Cup squad which fell to hosts South Africa in the semi-finals before Australia won the title for the third time in a row, captained by the returning Lanning after five months away from the game last year. But Wong did return to action in the inaugural WPL, winning the trophy with Mumbai Indians and finishing as the third-highest wicket-taker with 15 at 14.00, which included a hat-trick in the eliminator against UP Warriorz.
Part of her reasoning about the Australians relates to her experience in India, having played against a number of her potential Ashes foes there, believing that also playing with and against them at the WBBL and in the Hundred - where she will again represent Birmingham Phoenix when the 2023 edition commences in August - demystifies them somewhat.
"I've never played them but I don't view them as 'the Australians,'" Wong said. "They're going to have Beth Mooney and Alyssa Healy opening the batting, Meg Lanning's going to bat at three, then in that middle order you're going to have [Tahlia] McGrath, [Phoenix team-mate Ellyse] Perry, [Grace] Harris. You've played against these guys so much that you get to know them and, not necessarily even know their games, but they're humans at the end of the day and humans do good things and humans do bad things.
"That landscape changing, the more franchise stuff, is actually going to even out the playing field on an international level because people are playing against each other a lot more.
"People say, 'Oh, don't you think it's going to make international cricket less good if David Warner's best mates with Jonny Bairstow because they open the batting for Sunrisers Hyderabad?' I think that's rubbish because actually it's going to make the competition a lot better. You've got these guys playing against people that they know and those are the best battles because each person's having to adapt their game and do things a little bit differently. When they've played against each other a lot, they're working each other out and that's how the game is evolving."
Wong celebrates after dismissing Alyssa Healy in the WPL eliminator  Getty Images
Wong's comments come within a week of Stuart Broad's contention that Australia's 4-0 victory over England Men in their ill-fated Ashes tour of 2021-22 didn't count as "a real Ashes", with the Covid-19 restrictions it was played under making it a "void series" in his view, and six weeks after Ollie Robinson said the side which has reinvented itself under Brendon McCullum and Ben Stokes since could "give Australia a good hiding" this time around. But they are no less bold against an Australia Women's side which lost just one match - to India in a Super Over - in 2022, also holds the ODI World Cup and has not lost an Ashes series since 2013-14.
Asked whether now was a good time for her to play against the Australians in the Ashes personally, Wong responded: "My opinion, yeah. I also think it's a great time for me to play up front for Liverpool. Does Jurgen Klopp share that opinion? No. There's some things that you've got power over there's some things that you don't. I'm always going to be up for it, that's my personality, but I've got to control those things that are in my control. I'm in control of if I'm up for it. I'm up for it. But you never know I guess."
Wong earned her first England cap in the drawn Test against South Africa in Taunton last June. She ended the match with three wickets, including two in two overs on a rain-affected penultimate day. She also featured in the white-ball section of South Africa's tour before playing all of England's matches at the Commonwealth Games, where the hosts finished a disappointing fourth.
She sat out the most recent WBBL with a minor back complaint and amid ECB concerns over workload management before a quadriceps injury forced her to miss England's tour of the Caribbean and therefore a chance to press for T20 World Cup selection in front of new coach Jon Lewis. In terms of the WPL providing a platform to prove a point after her omission, Wong agreed that it did, although not in the way one might expect.
"They picked their squad and unfortunately for me this time I wasn't in those plans," Wong said. "I probably had a half-hour of sulking, or not sulking but feeling sorry for myself, licking my wounds, then I had to get up and go to training. So there's not a whole lot I can do about it now and that period before the WPL I had probably three weeks at home where I could put in some good yards, come on a bit in training hopefully and then fly out to India.
"I was keen to show the progress I'd made, not necessarily that I should have been out there because if I'd picked the squad, I'd have been out there and probably my 14 best mates would have been because that's just how I'd pick the squad, isn't it? But it was very much show the progress that I'd made over the last four months and hopefully the potential of progress that I've got for the future."
Valkerie Baynes is a general editor, women's cricket, at ESPNcricinfo