Stats Analysis
Who is the best cover-driver going around today?
Is it Kane Williamson? Or Virat Kohli? Or Steven Smith? Let the numbers reveal all
S Rajesh. Stats by Shiva Jayaraman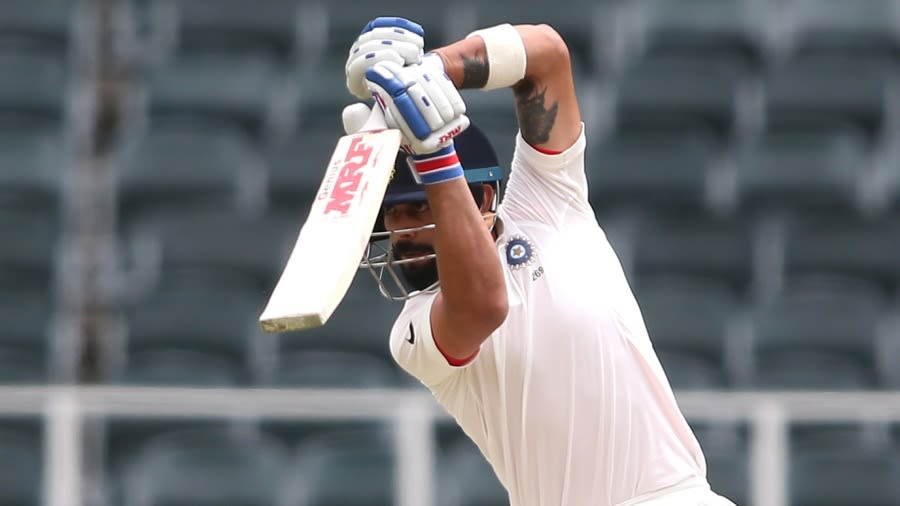 The cover drive is easily among the most productive shots for batsmen, especially in Test cricket: in the last six years, 40,909 runs have been scored off this shot in Tests, according to ESPNcricinfo's ball-by-ball data. Among all the different shot types recorded in the database, only the flick has yielded more runs.
Over the years, there have been many fine exponents of the shot: from David Gower, Damien Martyn, Mark Waugh, Michael Vaughan and Sourav Ganguly, to current stars like Virat Kohli, Rohit Sharma and Kane Williamson. However, when we subjectively assess batsmen on how well they played the shot, style takes precedence over substance (though in many cases they go hand in hand). What we remember is the flourish of a Brian Lara, or the silken grace and elegance of Vaughan and Ganguly, but not necessarily the efficiency with which a Jacques Kallis or a Rahul Dravid executed the shot.
The human mind, by default, gravitates towards what is aesthetically pleasing, but what if we ignore the aesthetics and focus only on the hard facts? This article looks at the best exponents of the cover drive in Tests among current batsmen, but through the prism of stats and numbers. (To check out a similar article from 15 years ago, click here.) The period considered here is the last six years, from April 1, 2014.
The leaders by average
Consider, for example, Kohli. In these six years, he has scored 1038 Test runs off the cover drive, and is the only player to top 1000 runs off that shot. But he has also been dismissed 14 times when trying to play it, which gives him an average of 74.1 runs per dismissal. That looks like a reasonably healthy average, but among the 45 batsmen with 300-plus runs from that shot in the last six years, 24 have a better average than Kohli.
Leading that bunch are two unlikely South Africans and a Pakistani: Aiden Markram, Faf du Plessis and Asad Shafiq. Markram has scored 338 runs from that shot without a single dismissal, which means he doesn't have a cover-drive average yet. His strike rate of 207 when playing the cover drive is also the best among these 45 batsmen. These are early days in Markram's Test career, but he has established himself as one of the best exponents of the shot.
Du Plessis isn't the most elegant cover-driver going around, but his numbers are outstanding: 542 runs for just two dismissals, giving him an average of 271. Those numbers once again underline the triumph of substance over style. Shafiq has been around for nearly a decade now, but hasn't quite managed to elevate his career to the next level, which has left us discussing what he might have achieved in an alternative universe. However, his cover-drive numbers are from this universe and they are superb.
Among the next three in the list are players you might have expected right at the top. Williamson combines orthodoxy and elegance with effectiveness to run up an average of nearly 180, while Steven Smith's version of the cover drive is slightly different but successful nonetheless, giving him an average close to 150. Between them is Cheteshwar Pujara, a Test specialist and less flamboyant than most of his top-order mates in the Indian line-up, but as the average of 167.3 shows, quite adept at the cover drive too.
In fact, it's ironic that Pujara, known for his defensive abilities more than anything else, figures relatively low among the batsmen with the best defence but is in the top five in the list of batsmen with the most effective cover drives. Kohli, on the other hand, was among the top batsmen in terms of defence, but his cover-drive average of 74.1 is only good enough for the 25th spot among 45 batsmen. Joe Root is only a few spots above him at No. 19, with an average of 83.6.
The risk-reward factor
However, while the average indicates how safe a shot the cover-drive is for a batsman, it doesn't say how important that shot is for him. Kohli, for instance, scores 18.8% of all his runs through the cover drive, which means it is an important scoring option for him. For Markram, the percentage is as high as 23.7, but Pujara has only scored 12% of his runs through this shot, which suggests he is more careful in terms of choosing the deliveries he cover-drives, and also that this shot is not his most important run-gathering option. (Pujara's wagon wheel during this period shows he has scored 1201 runs off the flick, and only 502 from the cover drive; for Kohli, the flick has fetched 1419 runs, but the cover drive is not too far behind, at 1038.) Pujara averages 138.7 balls per dismissal when playing the cover drive, compared to Kohli's 55.3.
So while the cover drive is a riskier option for Kohli than it is for Pujara, that is also because he attempts that shot more often - perhaps to deliveries that aren't quite there for the shot - and gets a higher percentage of his runs from that shot.
Another way to look at this risk-reward equation is to compare the percentage of runs this shot fetches a batsman, versus the percentage of dismissals it brings about. Kohli gets 18.8% of his runs from the cover drive, but it also results in 14.3% of his dismissals (excluding run-outs), which gives him a differential of 4.5. For Pujara, those percentages are 12 and 3.5, which is a differential of 8.5.
Markram's differential on this scale is 23.7, which is the highest. Du Plessis is up there too, as is Shai Hope, who scores 23.3% of his runs through the cover drive. At the other end of the scale is Babar Azam. The cover drive is his most productive shot - it has fetched him 394 runs, while the next highest is the flick, with 320 - but it has also brought about eight dismissals. In terms of his aggregate numbers, those work out to 21.3% of his total runs, and 21.1% of his total bowler dismissals. The differential of 0.2 is the lowest among the 45 batsmen in this list. Azam's cover-drive average of 49.3 is ranked 42nd; only Kraigg Brathwaite (45), Kusal Mendis (44.71) and Dimuth Karunaratne (44.4) have poorer averages.
(However, it needs to be mentioned here that this differential is also a function of how many runs a batsman scores off other shots. Hope's runs percentage off the cover drive is extremely high because he doesn't score as many runs off other shots. That in turn increases the differential value for him. Smith has a lower run percentage - and a lower differential - because he has other shots in his arsenal, but his cover-drive average is still much higher than Hope's.)
When the favourite shot fetches high value
What about the batsmen who combine a high average with a high percentage of runs scored through the shot? It turns out there are only five who average more than 100 while also scoring at least 20% of their runs through the cover drive: Markram, Tamim Iqbal, David Warner, Shakib Al Hasan, and Hashim Amla. Temba Bavuma just misses out but deserves a mention: he averages 121.67, while scoring 19.8% of his runs through the cover-drive.
Control stats
Finally, a look at the control numbers for these batsmen. Do high averages necessarily translate into high control percentages? It turns out that most batsmen with high averages do have pretty good control stats as well, but the ones with poor averages don't necessarily have poor control percentages.
Markram's control is an amazing 94.5%, but his sample size of deliveries cover-driven is 163. Taking a cut-off of 300 balls faced - 39 batsmen make the list - the batsman with the highest control percentage is that control freak, Williamson, at an astounding 95%. BJ Watling, who has a cover-drive average of 84, which ranks him 18th on that list, comes in second here, with a control percentage of 94.1. Similarly, Azhar Ali (average 78.57) moves up from 20th to third place. Pujara ranks 13th with a percent of 88.9, while Root is 25th (87.1) and Kohli is 28th (86.3).
The interesting entry, though, is at No. 5: Azam's control percentage when playing the cover drive is an exceptional 91.5, but despite that, his average when playing that shot is among the poorest, at 49.25. The reason for that is his rate of getting out when he makes a mistake: he makes only 3.5 false shots per dismissal, compared to 7.3 for Williamson, 12.5 for Smith, and 18 for du Plessis. It could be that he tends to attempts high-risk cover-drives, when the ball isn't really there for the shot, or it could just be that he has been unlucky whenever he has made a mistake attempting the cover drive. Given the flair with which he plays that shot, though, the rank in the control table seems more apt than his rank in terms of average, which will surely go up over the next few years.
S Rajesh is stats editor of ESPNcricinfo. @rajeshstats