England v New Zealand, 1st ODI, Edgbaston
June 8, 2015
World Cup finalists v World Cup flops
Match facts
June 9, 2015
Start time 2.00pm local (1300GMT)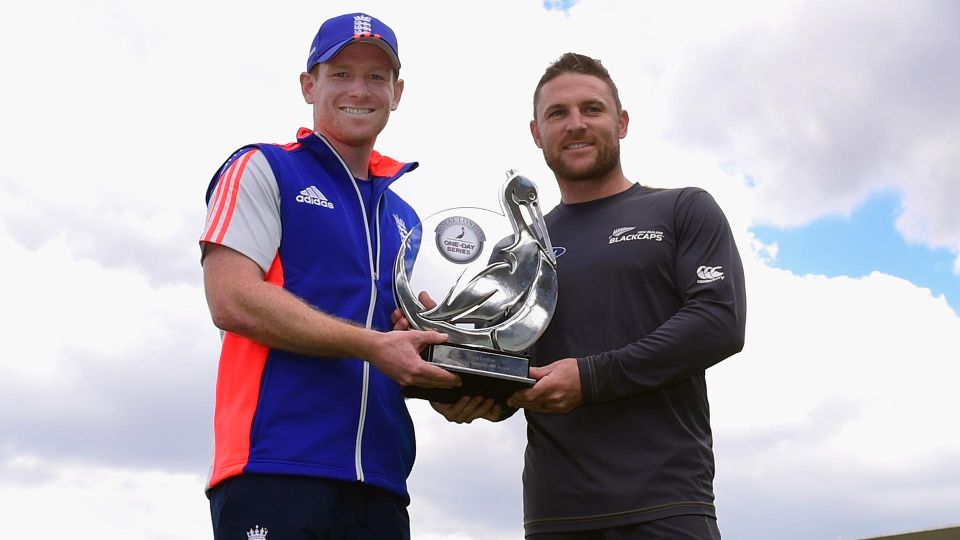 Play 03:29

New-look England begin latest rebuilding job
Big Picture
New Zealand and England could hardly be further apart in terms of their reputation as one-day teams. The visitors are viewed as trendsetters, the home side trying - for the umpteenth time - to move their game forward, having to catch up with the way 50-over cricket is now played.
As you would expect then, given the starting points of both teams, the two squads highlight the contrasting fortunes. Apart from enforced changes through retirement or injury, New Zealand have retained the players who helped them to the World Cup final. England, meanwhile, will have at least five changes from the team which played their last match of the World Cup; the selectors did not have a full hand of players to select from for the rained-off match against Ireland, but that was an early glimpse into the future.
New Zealand will not feel any need for reinvention although moving on from the retired Daniel Vettori will be a significant challenge; his ability to hold the innings allowed the pace bowlers even greater freedom to attack. But the batting order remains stable and all the players have shown form on the tour - some ODIs are played at a slower tempo than New Zealand batted in the second Test.
Perhaps New Zealand's biggest challenge is refocusing their aims. Although Brendon McCullum and Mike Hesson have consistently said they allowed the team to develop naturally into the World Cup it did provide a definite target to aim for. The next global 50-over tournament is the 2017 Champions Trophy in England.
That gives the hosts a significant focal point, too, because although much talk in recent times has been about the World Cup in 2019 a four-year cycle is a vast amount of time. The next two years will give a good indication of how different, or otherwise, the fortunes of these two teams can be. But ultimately it's about winning the next match, and the next series. As New Zealand have shown, a winning side generally finds things slotting into place.
Form guide
(last five completed matches, most recent first)
England WLLWL
New Zealand LWWWW
In the spotlight
How Alex Hales has only played 10 one-day internationals is a mystery which sums up the mess of England's limited-overs cricket. Because the Indian seamers nipped a few deliveries through his defence the selectors appeared spooked that he had been "found out" and he was back on the sidelines. He has not been afraid of expressing his frustration but, importantly, at the start of this season has scored runs, too. Individually, and in his likely partnership with Jason Roy, success won't always come his way but he needs backing for the long run.
It might seem odd, given all the talk of attack, but Kane Williamson remains a vital element in the New Zealand's one-day team. His match-winning six against Australia at Eden Park reverberated around the game, but he got to that position by being able to absorb pressure amid mayhem. There remains a place for the orthodox in a one-day team, especially when surrounded by so much aggression. In the absence of Vettori his remodelled offspin may see greater service, too.
Teams news
Three players who made their ODI debuts in Dublin, on what became a day overshadowed by the news of Peter Moores' sacking, could appear at Edgbaston. Roy should form an attacking opening pairing with Hales, David Willey will be given a chance to fill the left-armer's role picked out by Paul Farbrace as an area England must fill and Mark Wood has impressed in the early days of his international career although his workload may be a concern and Liam Plunkett could be preferred. A new-look batting order is likely to see Ben Stokes at No. 4 and Jos Buttler at No. 6. James Taylor and Sam Billings are expected to miss out.
England (possible): 1 Alex Hales, 2 Jason Roy, 3 Joe Root, 4 Ben Stokes, 5 Eoin Morgan (capt), 6 Jos Buttler (wk), 7 David Willey 8 Adil Rashid, 9 Chris Jordan, 10 Liam Plunkett, 11 Steven Finn
Tim Southee is likely to sit out this opening match after his workload in the Test series while Corey Anderson, who missed the second Test with a back problem, may also struggle but is expected to be fit soon. His absence could open the way for Mitchell Santner, a left-handed batsman and left-arm spinner, to make his ODI debut. Ben Wheeler, another left-arm seamer, is an option for the pace attack while Mitchell McClenaghan took four wickets in the warm-up against Leicestershire.
New Zealand (possible): 1 Brendon McCullum (capt), 2 Martin Guptill, 3 Kane Williamson, 4 Ross Taylor, 5 Grant Elliott, 6 Mitchell Santner, 7 Luke Ronchi (wk), 8 Ben Wheeler, 9 Matt Henry, 10 Trent Boult, 11 Mitchell McClenaghan
Pitch and conditions
England twice struggled to post totals in ODIs on this ground last year, falling to defeats against Sri Lanka and India, with spin playing a key role in keeping them quiet. But under lights the ball can also zip around. The forecast is set fair, if not exactly warm.
Stats and trivia
Last season on this ground, against Sri Lanka, Jos Buttler was Mankaded by Sachithra Senanayake
Eoin Morgan needs 62 runs to reach 4000 in ODIs, but in the last year has passed fifty just twice in 25 innings (scores of 62 against Sri Lanka in Colombo and 121 against Australia in Sydney). His average of 19.60 is the second-lowest of anyone since May 1, 2014 to have batted at least 20 times in ODIs.
At the World Cup, five of New Zealand's top seven had strike-rates over 100; Williamson was 78.00 and Taylor 61.55. Only two batsmen - Buttler and Moeen Ali - passed that mark for England.
The two teams have not played a completed ODI at Edgbaston since 1994. The 2008 meeting was controversially abandoned one-over short of a match. New Zealand will field at least three survivors from that match - McCullum, Taylor and Elliott (Southee also played). England have none, although Dimitri Mascarenhas is now the New Zealand bowling coach.
Quotes
"For a long time now, we've been behind the eight-ball in one-day cricket. We've fallen behind by a long way and it's time for a catch-up."
Eoin Morgan sets the stage for England's latest new era
"We have an eye to those but you have to deal with the here and now, we aren't good enough to look too far ahead. There are some guys introduced with a view to those tournaments but we just need to keep playing how we have been."
Brendon McCullum does not want to look ahead as far as the 2017 Champions Trophy
Andrew McGlashan is a deputy editor at ESPNcricinfo
© ESPN Sports Media Ltd.