Sri Lanka v South Africa, 2nd Test, SSC, 3rd day
July 26, 2014
Amla takes time to save Test
Seemingly collecting his runs in fractions, South Africa's captain bent himself to the task of stalling Sri Lanka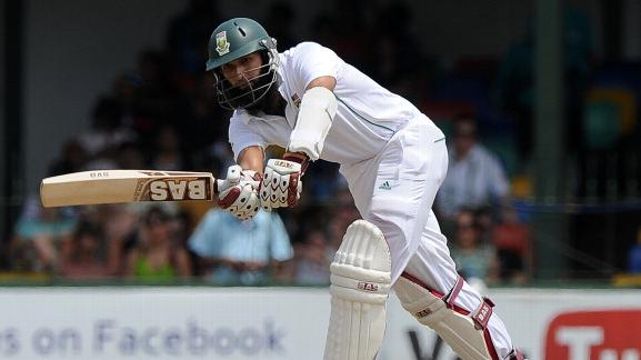 Play 04:15

Moonda: SA put safety first
On the same day South Africa's first match on this Sri Lanka tour took place - July 3 - CSA announced a new sponsor: Rolux. The lawnmower manufacturers became an official supplier. Change one letter and you will get the name of the company they should have signed: Rolex.
Time was the theme of the day traditionally known as "moving day" in a Test. The only things that seemed to shift were seconds, minutes, hours and sessions. Somehow that became runs and wickets, eventually. But that was because time was going to be used by South Africa as a luxury and they were going to do it with it what one does in a bath after a long day - soak among the soap suds, lean back and read a magazine, sip a cup of tea.
In these conditions and with 1-0 lead in the series, they made it clear it would be up Sri Lanka to pull the plug and force the water to drain. That the hosts were frustrated in their efforts for a large part of the day only worked to South Africa's advantage because it gouged chunks of time out of the match.
For all but the third and fourth overs on the day, when 25 runs came, in an unexpected and spluttering burst of life, South Africa stuck to the task of almost standing still. Even AB de Villiers, who usually finds that impossible, did his best to do so but only half-succeeded. He put on 51 runs in the first 16 overs with Hashim Amla at a rate of 3.18.
When both de Villiers and Quinton de Kock were dismissed in the same over, Amla and JP Duminy became statues. The remaining 13 overs of the first session produced just 13 runs. They had their fill at lunch instead.
Then they were back to being stone walls for another eight overs in which they scored 12 runs before Duminy was dismissed. In total, from the morning session until the last recognised batsman left, South Africa scored 77 runs in 37.4 overs and crept along at a rate of 2.04.
Usually that decimal point in the run-rate does not mean anything beyond the purely mathematical. We understand if the rate is 2.5 an over, it means 10 runs were scored in four overs. Today it seemed possible that runs were being collected fraction by fraction.
Amla was the one taking all the bits and turning them into whole parts. His century will not be remembered for silkiness, like the 21 others, but for skill. Specifically, the skill to resist. Some of the signature strokes were still there: the cover drive snuck out once Amla had reached his half-century and again as he entered the nineties but most of his innings was about self-denial.
Even when it was invitingly tossed up, Amla lunged forward and blocked. That was the shot he played more than any other. He used it to smother the turn and suffocate any chance Sri Lanka may have had of dismissing him. Sprinkled among the forward defensives, Amla had the opportunity to pierce the field many times but often he picked out the man in white, as though to save himself the trouble of having to make his way from one end of the pitch to the other.
There was no need for over-exertion, as Amla conserved energy to be able to bat long rather than bat expansively. Not many batsman can do that without making a mistake. De Villiers was beaten by one that spun in; Duminy looked like he would be beaten by his own approach to pad up to fuller deliveries and was eventually done when he came dancing down the wicket.
Amla's eight hours and six minutes nibbled away at more than a day's worth of cricket and sent a warning to Sri Lanka: you will have to do all this again to win the match
Instances like that exposed the risks in South Africa's strategy. Because of how slowly they were scoring, if wickets fell quickly they were facing a large deficit. But the cluster of scalps never came. South Africa's tail showed they could actually be classified as lower middle-order allrounders.
Vernon Philander shared in the fastest-scoring partnership of the match with Amla, in which 29 runs came in 50 balls at 3.34, Dale Steyn contributed to a stand which lasted almost 20 overs and even Imran Tahir did his bit. He batted for more than an hour at Amla's side, even as his captain tired.
The intense concentration Amla employed took it out of him. He required water several more times than he usually does, although Russell Domingo could not remember him changing his batting gloves once. His sprightly jog became a laboured trudge and in the 127th over, when South Africa had faced five overs and two balls more than Sri Lanka but scored 151 runs less, he refused a run when Tahir was in the mood for a second.
Amla would have known that at some point his bowlers would want a licence to try something. Tahir's came five overs after the run was turned down. Like Steyn before him, he wanted to go big but ended up holing out. By then it mattered a lot less than if he had done it when he had just got to the crease and Amla deserves the credit for that not happening.
He also deserves the credit for taking South Africa to a position from which they will probably not have to bat as long as they did in Adelaide or Johannesburg to save the game. His eight hours and six minutes nibbled away at more than a day's worth of cricket and sent a warning to Sri Lanka: you will have to do all this again to win the match.
It took Sri Lanka 134.5 overs, eight hours and 42 minutes, and the best part of four-and-a-half sessions to dismiss South Africa once. Even on a surface that will become more difficult to bat on on the final day, Sri Lanka will be mindful of needing time, more than anything else, to break through a stubborn South Africa line-up. And they don't need a Rolex, or any other kind of watch, to know that one eye will have to be on the clock.
Firdose Moonda is ESPNcricinfo's South Africa correspondent
© ESPN Sports Media Ltd.