Australia v India, 1st Test, Adelaide, 5th day
December 13, 2014
Nathan Lyon's last-day catharsis
Throughout his Test career, Nathan Lyon has struggled to fully tap his undoubted potential, often struggling to match his first-innings exploits on later days. All of that changed on Saturday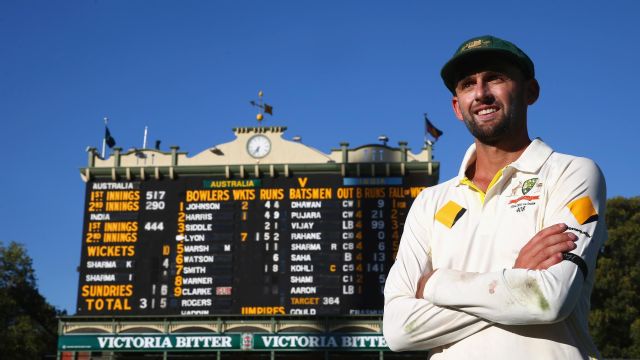 Play 03:49

Chappell: Lyon finally got the monkey off his back
For two weeks, Australia's cricketers have mourned the death of Phillip Hughes, lost before he could fulfill the rich promise of his talent. On a cathartic afternoon at Adelaide Oval, they rejoiced in seeing Nathan Lyon finally grasp his own, overcoming his own doubts as well as India. Lyon used the helpful conditions in Adelaide in a masterful fashion, augmenting them with the sharp bounce he extracts through the overspin favoured for generations by Antipodean spinners.
Lyon had of course bowled diligently and well in the first innings, holding together Australia's defence of 517 in a match where none of the team's more vaunted pacemen were at their best. But even after that display, some questions remained, not only in Lyon's mind but in those of all who had watched his career so far.
There had been a pattern to it, of the kind that will eat away at a spin bowler's mind. On his debut against Sri Lanka in Galle, Lyon twirled past Kumar Sangakkara with his very first ball, and figures of 5 for 34 ensued. But he was overshadowed in the second innings by Ryan Harris, who was the critical wicket-taker in a rare subcontinental victory for Michael Clarke's team.
That seemed to set the template for Lyon's Test performances, as encouraging first innings displays were invariably followed by inferior returns on days four and five, ostensibly when the ball should turn the farthest or kick up most sharply from his classical action. In Dominica against the West Indies, it was Clarke who took the wickets instead; in Adelaide against South Africa no-one else could.
At times the elements have also conspired: Lyon bowled with teasing loop and sharp spin against England on the final day at Old Trafford last year, but the chance to prove himself with wickets was to be scuppered by rain. In Cape Town on the final day of a long but satisfying summer for the team, Lyon went wicketless against dead South African bats, and it was Steve Smith's occasional leg breaks that extracted the pivotal wicket of Faf du Plessis.
Such days can be difficult to forget, and Lyon wore another scar of sorts in the UAE against Pakistan's nimble batsmen when he was unable to contain them, let alone claim their wickets. But time with his spin mentor John Davison since returning home offered a familiar source of advice and comfort, and in Adelaide, Lyon found his former boss Damian Hough had prepared a strip to his liking.
A dry pitch, a fourth-innings chase and a commission to take wickets. It all added up. Lyon felt the promise of the moment, but also the pressure: some years ago, one former Australian spinner ran into the dressing room toilets and burst into tears after failing to spin out a doughty opponent in the fourth innings, and even Shane Warne grappled with the fear of failure before warding it off against the West Indies at the MCG in the last week of 1992.
Then, as now, the visitors made the sort of start that suggested wickets may be difficult to extract. Lyon also had to contend with an exceptionally conservative interpretation of the lbw law from the umpire Marais Erasmus, as players and officials alike tried to get used to playing DRS-free at the behest of India.
But Lyon was helped by the fact that under the forthright captaincy of Virat Kohli, India were intent upon chasing their target rather than playing out the day. Warne enjoyed similar fortune when he bowled to Richie Richardson, Phil Simmons, Carl Hooper et al - a spinner's task can be greatly aided by batsmen intent on destruction rather than survival. Lyon has always been most capable in that kind of duel, something he showed as early as his state debut for South Australia in the Twenty20 Big Bash of 2010-11.
So it was that Lyon had batsmen he could tease in addition to a pitch on which he could excel. That combination was always likely to result in wickets, even if at tea on the final day Australia still required another eight. By this time, Lyon had been shorn of Clarke's counsel, as the captain suffered yet another hamstring tear. In his stead, Brad Haddin led well with help from Steven Smith, David Warner and Shane Watson.
Haddin's relationship with Lyon has been almost as constructive as that with Davison, and it was with a wonderfully sharp catch earlier in the day that he opened his spinner's wicket-taking account. Even when denied an lbw from around the wicket to the princely Kohli, Lyon did not allow the frustrations to affect his bowling. He carried on, and suddenly the dam burst.
M Vijay was pinned on the back foot and Erasmus' finger finally raised. Ajinkya Rahane was out to a poor bat and pad decision, evening out Lyon's luck. Rohit Sharma gloved a prancing off break that Warner held thrillingly on the dive at leg slip. And Wriddhiman Saha chose the wrong ball at which to advance, beaten by flight and turn to be bowled.
The key wicket, though, was Kohli. Lyon had duelled with him for most of the day, and felt wronged by the aforementioned lbw appeal. The moment at which this definitively became Lyon's day, was perhaps the rarest sight of his career so far - a batsman miscuing a strike at a poor delivery and being caught on the boundary. Most spinners can expect to claim a few wickets with full tosses or long hops, but it has seldom been Lyon's luck. Kohli hoped momentarily that Mitchell Marsh's misjudgment of flight would lead to a dropped catch. It did not.
Often, Lyon has been described as bowling better than his figures. But equally, he has not had the confidence to snatch the wickets that would do him justice. Now he has done so, leaving Clarke to hope for many more. "He bowled fantastically in both innings," Clarke said. "I think he could have had eight or nine wickets in the first innings, he bowled unbelievably well. If anything, it helps Nathan more than how anyone else thinks.
"I think everyone in the change rooms knows how good he is. Knows what he did today - he could have done that a number of times for us already. He's bowled really well throughout his career. He bowled without too much luck in the first innings and still picked up a five-for, so I hope that does his confidence the world of good. Because everybody around him believes he can do that, and it confirms to him that he's a match-winner.
"He's shown that in the past, anybody that has the skill to take wickets in the first innings of a Test can certainly do it in the second innings. It comes down to the player and the hard work Lyono has put in over a long period of time to continue to build that confidence and knows when he gets that opportunity he can do it. The reward today will confirm to him that he's a wonderful bowler and an important part of the Australian cricket team."
Mourners at Hughes' funeral were urged by his sister to take every opportunity, to not let life pass them by. On a wondrous Adelaide Afternoon Lyon did just that. In the evening he sang the team song at the spot emblazoned with Hughes' cap number 408. Lyon's bowling had honoured him.
Daniel Brettig is an assistant editor at ESPNcricinfo. @danbrettig
© ESPN Sports Media Ltd.