England v Sri Lanka, 2nd Investec Test, Headingley, 4th day
June 23, 2014
New England, same mistakes
With Alastair Cook isolated and the deficiencies in his captaincy laid bare, the suggestion that English cricket is at a low point continues to gain credence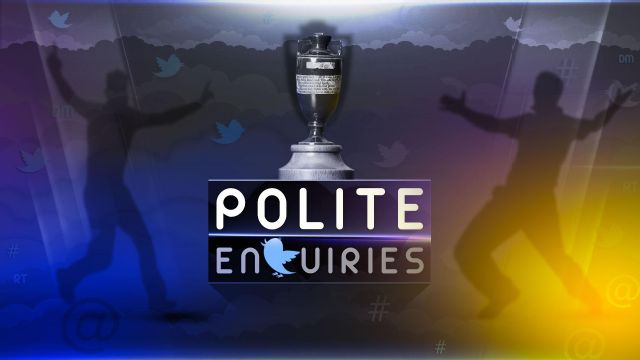 Play 06:06

#politeenquiries: Will Cook resign or be sacked?
Might this count as a low ebb?
After the Ashes defeat in Australia, the ECB chairman, Giles Clarke, said it was "utter nonsense" to claim that England were at "some sort of massive low ebb".
Since then, though, little has gone right for England. They were embarrassed in the World T20 by Holland, they lost the ODI series (and the T20 match) against Sri Lanka and their new managing director, Paul Downton, has sometimes looked so out of his depth that it is hard to resist the temptation to throw him a pair of armbands.
And, as their bowlers were thrashed around Leeds by Sri Lanka's eighth-wicket pair, as their captain's grim run of form continued, as they allowed a game they had every chance to dominate slip away in front of a 'crowd' so small it should probably be called a 'sparse' and as their batsmen displayed the resilience of a papadam - Liam Plunkett's dismissal might be remembered as the worst shot by a nightwatchman in the history of Test cricket - it was hard to avoid any other conclusion than England had slipped not just to a low ebb, but to basement flat below one.
England have already gone seven Tests without a victory. But even if they do produce a miracle and prevail on the final day (and they might as well pray that a plague of unicorns prevents play), even if they pull off the largest successful fourth-innings run chase in their history, it should not obscure the deficiencies that have hurt them. And it should not obscure the deficiencies in the leadership of Alastair Cook.
It is not just the poor batting form or the uninspiring tactics that provoke such concerns. Yes, we know that he has now gone 24 innings without a Test century and that, since July 2013, he averages in the mid-20s. And we know that, as a tactician, he is more mouse than Strauss; more phoney than Dhoni. The decision to set spread fields in the opening overs of the day simply allowed Mahela Jayawardene and Angelo Mathews to settle in.
But we also know his long-term batting record is excellent and, given time, he should come again. And we know that, when he is batting well, he has the ability to unite his team and lead them to fine victories such as a series wins in India and an Ashes win at home. There are different ways to lead and Cook is not as hopeless as some would suggest.
The real concern is his inability to raise his team when required. Frustrated by his ineloquence, he appears unable to find the stirring phrases to rouse and renew in times of trouble. He is the type of captain who leads by example. And his current example is mediocrity.
More than that, though, he was the captain backed by the ECB when it was decided to drop Kevin Pietersen. He was the captain either unwilling or unable to accommodate the highest run-scorer in England's international history and, as a result, he has weakened his side and shouldered an unnecessary burden.
Any suggestion that he was unaffected by the relentless negativity towards him from high-profile critics such as Shane Warne and Piers Morgan was dashed when Cook snapped back the day before this match. It has clearly been on his mind.
But if Cook must take his share of responsibility for England's performance, a few of his senior players also need to reflect on the support they have offered him. Matt Prior has looked unrecognisable from the keeper who proved so reliable up until the end of 2013 and, in this match, has flapped like a seal and dropped like a stone.
For Sri Lanka to come in early summer and secure their first series win is a damning indictment of England's new era
James Anderson, impeccable for so long, bowled horribly short and wide in being out-performed by Dhammika Prasad. His first over with the second new ball did not demand a single stroke; his second was little better. Ian Bell was beaten through the gate, back when he should have been forward, while Stuart Broad was unable to summon any of the menace gained by his Sri Lanka counterparts. In an inexperienced side, these are the men who have to support Cook. On Monday, at least, they let Cook down. All those burned by the Ashes thrashing fell away under pressure.
What England cannot - must not - do is blame bad luck.
If you win the toss and decide to bowl first, you cannot complain if you end up batting fourth against a turning ball.
If you waste your two reviews on speculative lbw shouts - one where the ball was clearly going down the leg side - you cannot complain when an umpire misses a blatant outside edge off Shaminda Eranga before he has scored and there are no reviews remaining.
If you waste the new ball and squander more than half-a-dozen chances in the field, you cannot complain when Test batsmen punish you.
If you pass your opposition's score with only two wickets down but then lose 7 for 54, you cannot complain when the opposition fight their way back into the game.
And if you bowl your overs so slowly that you run out of time when the opposition are nine wickets down, you cannot complain when they hold on for a draw.
Sri Lanka have played well in this series, but England have been, to a large extent, the architects of their downfall.
There is, as ever, mitigation. This is an England side containing several inexperienced players; there were bound to be days like this as they learned their trade. Equally, in a two-match series, the effects of one poor day can be magnified. England have not been this bad for the other eight days. But overseas victories are hard to come by for any side and for Sri Lanka to come to the UK in early summer and secure their first series win, is not just a reward for fine cricket, but a damning indictment of England's new era.
George Dobell is a senior correspondent at ESPNcricinfo
© ESPN Sports Media Ltd.