England v India, 5th Investec Test, The Oval, 1st day
August 15, 2014
Woakes, Jordan show calibre
The performances of Chris Woakes and Chris Jordan in dismantling India suggested they could translate their county form to international level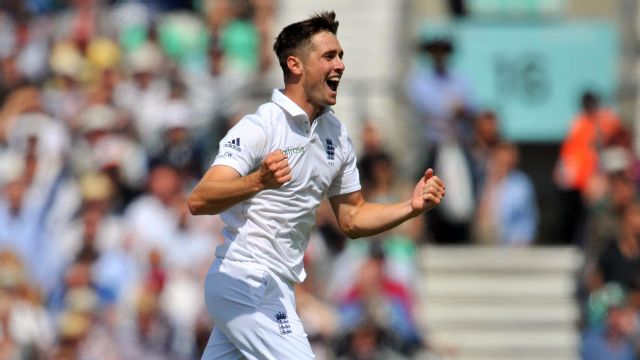 Play 01:05

Woakes: Perfect day for us
It would be nice to think that this, the first day of the final Test of the Investec series, was the day when another piece of the jigsaw fell into place for England.
It would be nice to think that this was the day when one of the few clouds that had lingered on England's horizon - the effectiveness of their support seamers - was banished.
It would be nice to think that this was the day that Chris Woakes and Chris Jordan came of age as Test cricketers.
And it may prove that way, too. It may well be that the confidence gained by each claiming their best figures to date on a first-day Test pitch allows them to feel more comfortable in this environment and settle into the consistent form that has rendered them among the best seamers in the county game.
Certainly Jordan, who has looked as dangerous as anyone with the new ball in domestic cricket over the last 18 months, is looking more relaxed with each day he spends at this level.
His progress seemed to stall when he was dropped after the two Sri Lanka Tests. Upon his return, he appeared more anxious than before. He sweated profusely within a couple of balls of starting a spell. He bowled as if every game might be his last. As if he felt he was on trial. His stiff, anxious wrist resulted in a number of deliveries sprayed down the leg side and little of the swing that renders him so dangerous at county level. It is sometimes forgotten that bowlers, like batsmen, benefit from continuity of selection.
But, as England stick with him, so he looks more assured. As he realises that he is part of the future, so he is able to replicate the form he has shown for Sussex. His action - the way he positions the ball in his right hand with his left, the odd swing of his shoulders as he starts his run - will always look a little deliberate, but there is nothing in there that would be a surprise to those who know him best at Sussex. If England stick with him, he will provide pace, hostility, swing and free-hitting lower-order batting. He will repay the investment.
Here Jordan bowled with good pace, his quickest delivery was timed at 91.2mph, and generated decent swing. If he was donated at least one of his victims - Bhuvneshwar Kumar threw his hands at a wide long hop and edged to the keeper - he defeated Virat Kohli with some well-executed bowling: after setting him up with away swing, he deceived him with one that went straight.
Woakes, too, enjoyed his finest day as a Test cricketer to date. Benefitting from some extra time in the gym and greater use of his front arm, Woakes has added a little pace to his bowling over each of the last three or four seasons. His pace here, an average of 84.7mph with a peak of 87.7, compared favourably with Anderson (84.3 and 87.6) and Stuart Broad (83.4 and 87.4) and he was bowling with an older ball.
Woakes has long been an underrated cricketer. Perhaps partly because of his unassuming nature - Ashley Giles used to refer to him as "the most low-maintenance player you could imagine" - partly because England used him mainly in white-ball cricket, where his skills are less useful, and partly because his first Test was played on a lifeless surface on this ground a year ago, he has been dismissed prematurely.
He is an intelligent bowler. He uses the crease to lure batsmen into playing at his outswinger - both R Ashwin and M Vijay will feel they had to play at balls that nipped away from them - and if his length was just a fraction short to take the edge of the bat, his nagging line ensured, for the first time this summer, that there was no let-up for the batsmen once Anderson and Broad were out of the attack.
But his primary weapon will always be movement. Here he nipped the ball away sharply and moved it back just enough to create doubt in the minds of batsmen already lacking confidence in such conditions. While it would be stretching a point to say he lost little in comparison to Anderson, he at least lent the sort of support required to sustain pressure upon India and suggest that, when the day comes and Anderson moves on, England do possess similar swing-bowling resources.
He would do well to learn from Anderson, though. While Anderson conceals the ball behind his left hand until the moment of delivery, batsmen talk of the ease with which they can "line up" Woakes. From the moment he starts his run-up to the moment he releases the ball, he presents it in his right hand for all to see. He is so orthodox, so committed to the coaching manual that states bowlers should run in straight lines, that he can, in less helpful conditions, be just a touch predictable. But he has much to build on and he will be eager to learn. And, in Anderson, he could hardly ask for a better role model.
But it would be disingenuous to assess this performance without some mention of the opposition and the conditions. These were the damp, overcast and sultry conditions of which England seamers dream and like which they will rarely, if ever, find in most of the rest of the world. They exploited them expertly but it would be naive to expect Woakes and Jordan to enjoy as much success in Asia.
Perhaps there might be a slight concern at the struggle to finish off the tail, too. Not for the first time this summer, England struggled to end a tenth-wicket stand. A lack of extreme pace, a lack of mystery spin, a lack of fear factor in their attack remains a weakness.
Most pertinently, a nagging doubt remains that this India team has, since Southampton, presented feeble competition. Lacking confidence and ill-prepared for such challenges they were, for the fourth successive time, dismissed for under 200. Such batting might flatter any attack.
They will go on lacking confidence and looking ill-prepared, too, while the BCCI's reluctance to let them play in domestic competitions continues. What the likes of Kohli and Cheteshwar Pujara and Vijay and Ajinkya Rahane are crying out for is a season or two of county cricket. A season or two where they can learn how to cope with such conditions and the moving ball. Such an apprenticeship served Rahul Dravid and Sachin Tendulkar well. India will always place themselves at a disadvantage while the current thinking pervades.
So, in terms of looking ahead at series against Australia and South Africa, both of which loom for England in 2015, this was like preparing to wrestle a tiger by petting a kitten. But it was another step forward, another day when the new-look England team took shape. These remain early days in the rebuilding operation, but so long as it continues to progress, it is unreasonable to expect more.
George Dobell is a senior correspondent at ESPNcricinfo
© ESPN Sports Media Ltd.